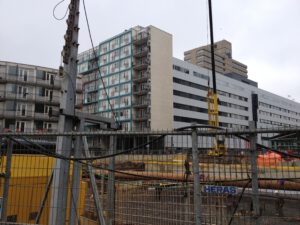 We had such great times in the building industry.
For decades.
Making plans, buying land, selling, developing and making money!
Houses, apartments, Vinex districts, large and small offices, commercial property and so on.
The process?doesn't?work no more.
The market is locked.
No investments by the government.
Citizens as well.
Or they're ?under water?.
Bankruptcy.
If buildings are the result of a healthy economy, we'll have to wait for a few more years!
Doom.
But still, there is ambition:
Beautiful cities, liveable cities, reallocation, restructuring, sustainable buildings, compact cities, plinth strategy, renovation, the spontaneous city, quality improvement, climate adaptation, the need for urban living, migration to the city.
This is the challenge!
We have the best Architects!
We can construct anything.
Contractors are eager to start!
But the process is old and sick.
The processes stuck!
REDESIGN THE PROCESS!
An enthusiastic group of students DCM from TuDelft is working on this assignment.
On behalf of the City of Rotterdam.
And the questions?
Where are the bottlenecks in the system?
What are possible solutions?
Who are responsible?
What are municipal incentives?
What is the role of the public sector?
Who?s to invest?
How do you design new coalitions, new alliances?
How do you organize trust and future collaboration?
Do we believe in new goals and new impetus?
REDESIGN!
I wish the students eagerness, determination, commitment and a little luck the following weeks.
I will be back with their results!