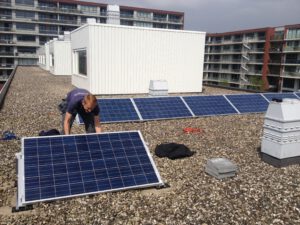 Last month, ten solar panels were placed on my roof.? These ten panels will provide the energy I use on a yearly basis.? I feel great about this because I am now not only an energy consumer, but also a producer. If you have solar panels yourself, you know how it feels, especially when the sun is shining brightly. Since then I meet people who show me their apps and proudly their energy production of the day. I notice I have become part of the growing community of small energy producers. And it feels good!

But there is also the feeling of being very small. My panels will produce approximately. 2.200 KWh a year.
Do I make a difference?
On May 15th the Dutch railway company NS signed a contract with Eneco, a Dutch based Energy Company to deliver, by 2018, all their energy from sustainable resources like windmills, solar panels, and biomass. This will be about 1,4 billion kwh per year, 1.400.000.000 KWh!!
WOW! This is making a difference!
1,4 billion Kwh is the needed energy of all households of Amsterdam, my city, on a yearly basis. And we have about 400.000 dwellings in our city. Because Dutch inhabitants explicitly wanted the Dutch Railways to go sustainable, they have chosen to do so and listen to their consumers.
End users can make the difference if it comes to energy transformation. We, as citizens, make the difference by producing our own energy and as a consumer we make the difference together with Dutch Railways. Maybe it feels small as a little energy producer but together we can have an impact.
I wonder what or who will be the next big user, making the difference. Or could it be possible that all citizens of a city unite and start negotiating as a big user as well? Does anyone have an example?